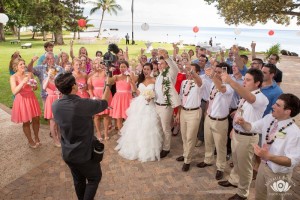 Maui wedding videography, here are some helpful tips in finding the perfect wedding videographer for your Maui wedding day!
A picture is worth a thousand words, but a high-quality video of your wedding day is priceless, even more so if you are having a destination wedding. Your wedding day goes by fast, being able to revisit those special moments you spent months planning for — and catch some you may have missed — is well worth the cost of hiring a professional videographer for your special day.
Photography vs Videography
These days, no one is planning a wedding without carefully selecting a photographer to capture it all with family and friends. And when it comes to budgeting, videography is often one of the first things cut to save money. This is due to an unfortunate perception that having both a photographer and a videographer at your wedding is overkill, but that couldn't be further from the truth, as video and photography capture your wedding day in two complete unique ways. Your photographer is likely focused on the wedding party, missing a lot of cherished guests and touching moments, like unexpected tears at the vow exchange, while couples who pay for both services often cite their wedding video as the best purchase of the day.
Why Should You Hire a Videographer?
While photography is a wonderful way to document your special day, video captures the details. The expressions of your family and friends, the song you chose for your first dance, the toasts, and of course the exchanging of vows. It's a great way to document and preserve the atmosphere of your wedding day, and to revisit it for years to come.
You wouldn't leave your wedding photos to a friend with a phone or a camera, so why do it with your videos? Videography is a technical art and a professional videographer brings a lot to the table including equipment, experience, and technical skill. Let's just put it this way: no one who hires the right videographer regrets it afterwards.
How to Choose the Right Videographer
You could take as much care in selecting your videographer as you would selecting a photographer, as there is a lot to consider. First off, you'll want to find someone who's style reflects what you are looking for in your video. This is very important, you should take time looking through portfolios and even consider doing some research before you contact anyone, being able to communicate what you are looking for is essential to finding the best fit.
Do Your Research
A professional will be able to help you make a lot of decisions for your wedding videos, but it never hurts to know what you are looking for ahead of time. You'll need to consider your budget; whether you want only the ceremony filmed or the reception as well; if you want the raw footage returned; what you are looking for in a final product; and so on. Most videographers offer a wide array of services and are able to offer anything from a simple five-minute summary to a feature-length edited video. If you are getting a package, you might be able to select multiple options and have the teaser films delivered ahead of your full video.
Schedule a Face-to-Face Meeting
Before you sign any contracts or put down any deposits, you need to meet up with your potential videographer face-to-face. Or, if you're having a destination wedding and this is not possible, a video chat can serve as a stand in.
A meeting is important for a few reasons. First, your wedding videographer will be one of the people you spend the most time with on your wedding day, and it's important that you feel comfortable working with them. You don't want to hire someone who will leave you feeling ill at ease when you should be focused on enjoying your wedding day. Second, despite all the ways that technology connects us, in-person communication is still the simplest and most effective method of getting a feel for a person and ensuring their transparency.
Don't Be Afraid to Ask Questions
Get to know your videographer. Have they filmed a lot of weddings? Do they book more than one event a day? Can they coordinate with your photographer? What is their editing process like? Your face-to-face meeting is a great time to ask these and any other questions you may have.
Discuss Your Expectations, Timelines, and Receivables
You don't want to find yourself six months out from your wedding, wondering when your video will be delivered, only to receive three hours of unedited footage when you were expecting a fully edited package. A good videographer will be able to thoroughly walk you through what to expect on your big day and what comes afterwards. Discuss what you are looking to receive as a final product and make sure you are on the same page.
It is also important to work out a clear timeline for delivery: will you receive all of your footage at once, or will you receive small clips first? What format you will receive them in? DVD and Blu-ray are more traditional, but lots of videographers are starting to opt for USB drives and digital delivery instead. Most videographers will provide your choice of format; so if you have a preference, be sure to ask for it, and find out if there are additional fees to receive your preferred format.
Why Hi Focused Cinematography Should Be Your First Choice for Wedding Videography
Excellent Communication
Hi Focused is top rated for response times and communication on both Facebook and Yelp, so you can stay rest-assured that you will be happy with your overall experience, from the first communication to the final product.
Award Winning Excellence
If you are planning your wedding in the tropical paradise of Maui, Hawaii, look no further than Hi Focused Cinematography for your wedding day needs. Winner of multiple awards — including Best Wedding Cinematographer/Videography in Hawaii, The Knot Hall of Fame Award, and a Wedding Wire Couple's Choice Award every year since 2011 —Hi Focused Cinematography is the top-rated wedding videographer in Maui.
More Than a Decade of Industry Experience
With over 14 years of industry experience, Hi Focused Cinematography brings talent and expertise to your day. Whether you've planned an intimate wedding on the beach or a lavish multi-location week long affair, they will capture all of your special moments without distracting you or your guests from the celebration. Additionally, they provide high quality production value without a big impact on your venue or your day, utilizing compact gear such as drones and Steadicams alongside professional audio and visual equipment.
Work With The People You Talk To
Some wedding cinematography companies are so large that the people you consult and plan with before the wedding are not the people you work with on the actual day, nor are they the people you speak to after. This is not only jarring and an unwelcome surprise on the day of your event, but it also leaves more room for error and miscommunication – the last thing you want with something as important as your wedding videos.
But when you work with Hi Focused Cinematography, Jordan and the small Hi Focused team will be with you every step of the way, from consultation to final delivery.
High Quality End Product, Prompt Delivery
When you work with Hi Focused Cinematography, you can expect to receive a top-quality wedding video within four months of your ceremony. There's a reason for the top-rated score on Yelp, as well as the popular wedding websites the Knot and Wedding Wire, with 5 star ratings across all platforms. You'll find plenty of overjoyed customer reviews demonstrating the quality and professionalism you get when you choose Hi Focused Cinematography.
To take a look at some of our work, visit our portfolio or YouTube channel, where you'll find past wedding videos as well as stunning 4k drone shots of beautiful Alaskan and Hawaiian landscapes, and even the 2017 eclipse. It all serves to prove one thing:
Hi Focused Cinematography is prepared to capture your wedding better than anyone else.